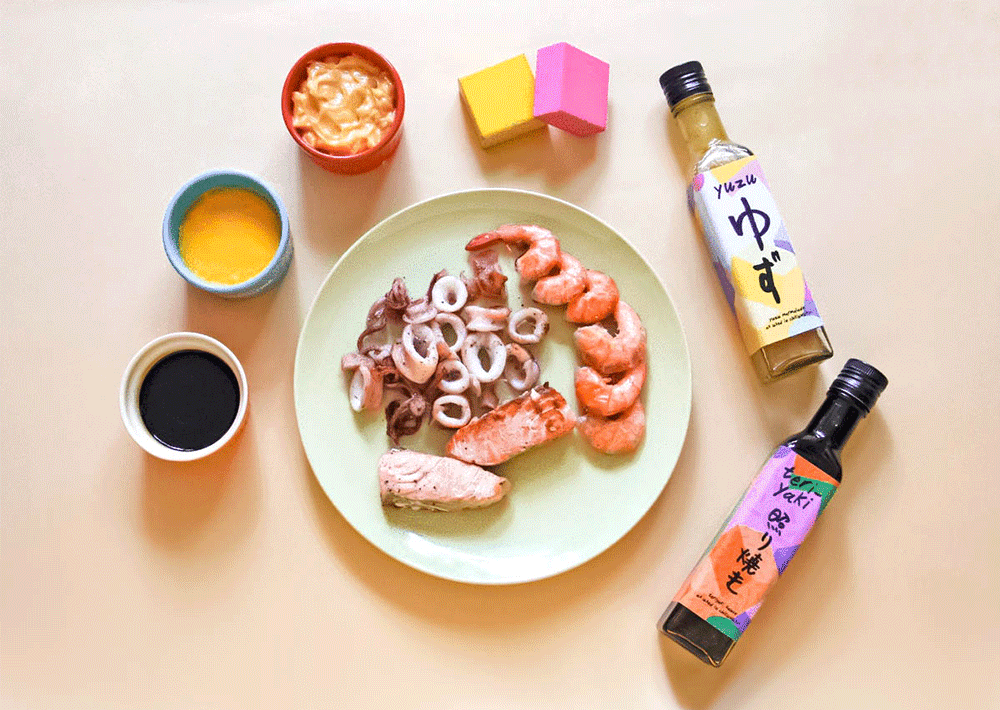 Time 50 minutes
Serves 6
Ingredients
Unsalted butter 300g, at room temperature

White miso 1 tbsp

Egg yolks 2

Yuzu marmalade 1 tsp.

Lemons 2 small - ½ juiced, cut the rest into wedges

Teriyaki sauce

Squid 250g, keep the tentacles

Large raw prawns with shell on 12, split down the back with dark veins pulled out

Salmon 3 fillets, halved lengthways

Oil

Salt

Pepper
Instructions
Miso Butter
Soften 150g of butter by beating it with a hand whisk and then whisk in the miso. Transfer the miso butter sauce into a small dish and keep it cool.
Yuzu Hollandaise
When you're ready to serve, make the yuzu hollandaise. Put the egg yolks, yuzu and ½ the lemon juice in a plastic bowl and mix them thoroughly.

Heat the remaining butter in a pan until it starts to gently bubble.

Pour the butter into the mixture, blending all the time, until the mixture emulsifies and thickens. Make sure to blend continuously to prevent the mixture from solidifying.
Teriyaki Dip
Pour desired amount of teriyaki sauce into a small dish.
Seafood Fry
Coat the seafood with desired amount of oil, salt and pepper.

Fry or griddle them according to your preference.

Serve with the 3 condiments and lemon wedges, and enjoy!